Fires are one of the most unpredictable hazards that can occur on properties. There are no foolproof approaches that can guarantee that no fire will ever take place in your living space, but there are a lot of helpful practices that can help minimize your risk of roof fires and other fire-related damage. Roof Pro LLC — a storm damage roof repair and replacement company — shares a few tips below.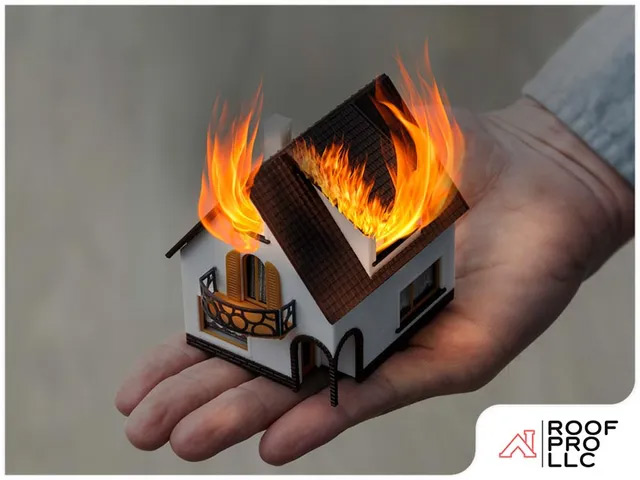 Use Class A materials. Roofing material can be either unrated or fall into one of the three categories of fire ratings. Unrated materials should be avoided at all costs. As for rated materials, Class A materials such as concrete and clay tiles offer the most protection against fires. Do not forget to install a fire-resistant underlayment if you live in an area that is prone to wildfires.
Keep the roof clean. Even a fire-resistant roof can ignite and burn when exposed to high temperatures for prolonged periods of time. If your roof is unkempt and full of leaves, twigs and other debris, the debris may catch fire, burn and cause the roof to ignite. Roof installation experts recommend cleaning your roof and gutters at least twice a year to effectively reduce the risk of fire.
Keep the chimney clean. Not only will animal debris, soot build up and creosote glaze affect the efficiency of your fireplace but they will also pose a risk for a chimney fire. Be sure to clean your chimney at least once a year.
Maintain the electrical system. Many roofs have electrical installations or wiring on them. Some examples include light fixtures, conduit pipes and rooftop HVAC units. If any of these electrical components malfunction, it may spark an electrical fire that can wreck the roof.
For top-rated roof inspection and roof replacement services, turn to Roof Pro LLC. Our certified professionals are committed to providing the comfort and efficiency every client deserves through industry-leading products and outstanding customer service. Call us today at Georgia Offices (678) 258-9065 Florida Office (954)-294-5698 or fill out our contact form to request a free, no-obligation estimate. We serve clients in North Georgia and the Atlanta Metro.