Commercial Roofing Specialists
At Roof Pro LLC, you'll find professional, skilled commercial roofing contractors who are devoted to ensuring your roof remains in safe, proper condition to protect against the elements. Our team has many years of experience in improving, upgrading and replacing commercial roofs, and it shows in the quality of our work. We specialize in the following roof materials:
TPO
EPDM
Metal roofs
Roll roofing/peel & stick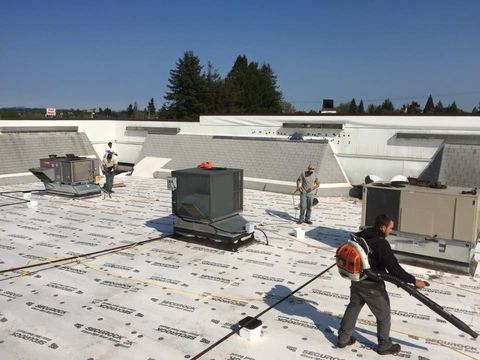 Repairing and restoring roofing systems to like-new condition is our priority. Our commitment to quality is unwavering and we guarantee satisfied business owners.
Our Services
Having a roof repaired or replaced may be stressful to a homeowner or business owner, and finding a reliable contractor is vital. At Roof Pro LLC, we take the pressure out of the process and stand behind our reputation of excellence and satisfaction by working through the process side-by-side with our clients, from initial inspection through the entire restoration process. We will remain committed to your needs for years after.
There is no project our professionals can't handle – from the most intricate and demanding to a general inspection or simple repairs. We believe in making sure each and every customer is completely satisfied, even years after the job is completed. Contact us today. We are on hand to answer your questions and help make sure you have the best experience possible!