With so many flat roofing options available for your commercial building in today's market, picking the right one can be downright daunting. While each system has its own unique strengths and weaknesses, what it really comes down to is what type of building you own. Is it a simple warehouse used for storing your products and materials? Or is it a manufacturing facility with a bunch of exhaust fans and a rooftop HVAC unit? In today's post, trusted roof repair and installation company Roof Pro LLC shares the two main contenders when it comes to a flat roofing system.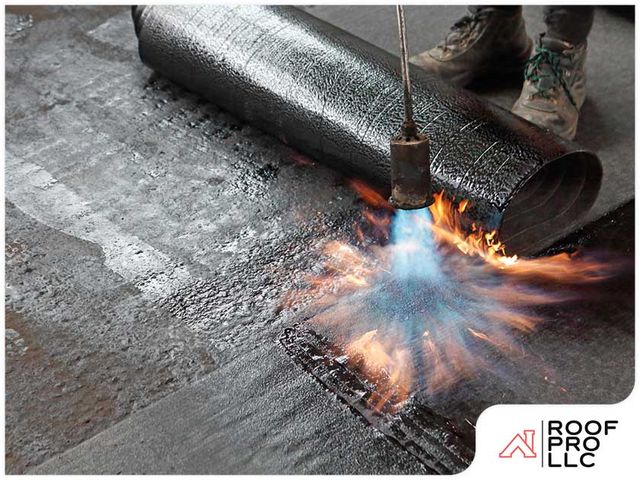 Single-Ply Roofing Systems
More and more, business owners and property managers are turning to single-ply roofs as a solution for their commercial buildings, and for good reason. They are reasonably priced, comes in a variety of colors, and are easy to install.
Single-ply systems are comprised of roofing products like TPO, PVC, and EPDM. They have far fewer seams than asphalt-based roofing systems and do not require dangerous torches and hot asphalt to be installed by your roofing company. While single-ply roofs are a good option for any type of commercial building, they are best suited for offices and warehouses that do not see a lot of roof foot traffic.
Asphalt-Based Roofing Systems
Asphalt-based roofs have been around forever and have been the industrial roofing standard for well over a century. They are composed of layers of modified or fiberglass rolls which are set and covered with hot or cold asphalt and topped with gravel to provide protection from the elements. Although difficult to install and slightly more expensive, they are more much stronger than single-ply roofs and can last over 50 years. Asphalt-based roofing systems are best for manufacturing facilities and factories due to their toughness and durability.
Whether you are in need of a commercial roof replacement contractor or are looking for a reputable company to provide preventive maintenance services, turn to the experts at Roof Pro LLC. Give us a call at Roof Pro LLC or fill out our contact form to schedule a free, no-obligation consultation today with one of our skilled roofers.