The entry door not only connects your home to the outside, it also serves as one of its most noticeable visual elements. To create a greater impression from the curb, you'll want to make sure your entry door is always in tip-top shape. And when it's not, then now is the perfect time for replacement. Entry doors are fully customizable. Aside from color and hardware, you'll want to decide on its size, as well. Should you choose the classic single entry door, or go for something bigger and bolder, like a double entry door?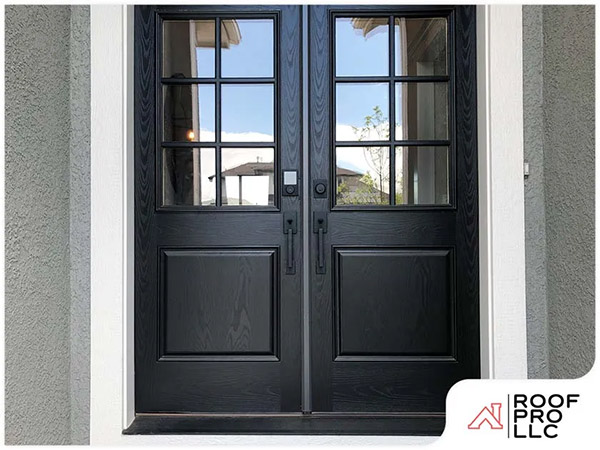 Let the trusted door and roof replacement company in the area, Roof Pro LLC help you decide:
1. Improved Convenience. The biggest advantage of a double entry door, in fact, is that it makes moving larger items, such as furniture or appliances, in and out of your home much easier. Have you tried maneuvering a washing machine through a single entry door at some point? That must have been a pain–but not if you pick a double entry door.
2. Increased Visual Impact. A double entry door is bigger, which automatically makes it more noticeable. When augmented with some choice design elements, like a transom over the door and a sidelight on either side, you can make your double entry door an instant focal point. Of course, when choosing the door design and its accompanying sidelights and transom, it's a great idea to look to your home's style as a guide. Roof Pro LLC can help you explore your options and decide on the design that best suits your home. We're not just an expert in roof repair–we can also work on your exterior home upgrades, like door replacement.
3. Better Natural Light. Double entry doors with sidelights and transoms can create a bolder visual impact, yes, but that's not the only thing they can offer. All of these glass panes also mean better access to natural light, which can make your entryway brighter, neater, and more spacious.
But a double entry door does have its drawbacks. For one thing, it usually comes with a higher initial cost compared to dingle entry doors. And if you don't have a spacious entryway, a double entry door may not be the nest design choice.
To determine whether a double entry door is right for your home, consult a trusted door and roofing company like Roof Pro LLC. We'll help increase your home's curb appeal with our top-tier options. We serve Flowery Branch, GA and all of Atlanta Metro and North Georgia. Call us today at (678) 258-9065 or fill out this contact form to schedule your consultation.